What is ShipCover?
ShipCover is a shipping insurance solution with low, competitive rates, worldwide coverage, and fast claims processing. Sellers in the U.S. can purchase ShipCover insurance for USPS shipments when they pay postage and print shipping labels on eBay. ShipCover insurance is provided by eBay through Parcel Insurance Plan and underwritten by Interstate Fire and Casualty Company, a subsidiary of Allianz Global Risks US Insurane Company.
Low competitive rates and worldwide coverage
With ShipCover you pay just $1.65 per $100 of coverage—a significant savings compared with most carriers' insurance rates for international coverage. Get up to $1,000 of domestic or international insurance coverage for your eBay shipments when you print your shipping label on eBay.
Integrated with eBay

When you print shipping labels on eBay, you can add ShipCover insurance with just a few clicks. This makes it easy to keep track of everything — shipment, delivery, and insurance — in one place.
Faster claims processing

File a claim quickly and easily right from eBay. Most claims are processed within seven business days after it's been verified. And you can monitor the claim's progress 24/7.
Frequently Asked Questions
Why ShipCover?
With ShipCover, U.S. sellers can purchase shipping insurance for their eBay packages in case the item is lost or damaged in transit. With ShipCover, the claims verification and settlement process is fast and easy, too.
Can I purchase ShipCover insurance for any carrier?
ShipCover is only available for USPS shipments when you print shipping labels on eBay.
What about printing labels with PayPal?
ShipCover is only available when you pay postage and print shipping labels on eBay.
If an item is lost or damaged, how do I file a claim?
When you purchase ShipCover insurance, a confirmation email will be sent to you with the policy details and instructions on how to file a claim. If the item is lost or damaged in transit, file a claim in My eBay. Under "View order details," click the "File Insurance Claim" link, fill out the information in the claim form, and submit it.
If I can't get to view order details, how do I file a claim?
ShipCover claim can also be filed from "My eBay", "Shipping Labels" (under Sell section on left pane). Select the "Period" on the right (if needed) and search the item number for which you need to file the claim. Click on "More Actions" followed by "Create Claim".

Refer to the images below for more information. Click to enlarge.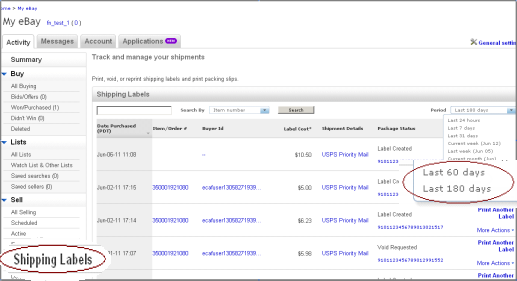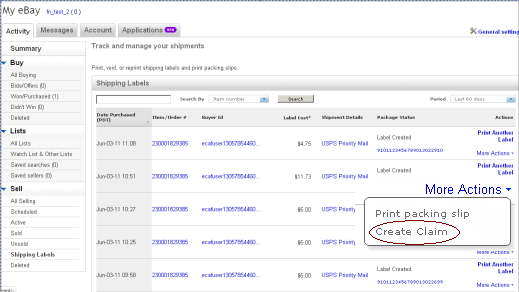 How does ShipCover verify my claim with the buyer?
After you file a claim, your buyer will have to verify that the item either did not arrive or was damaged in transit. There are two ways your buyer can verify your claim. One way is if your buyer opens a case in the eBay Resolution Center or with PayPal Buyer Protection for an item lost or damaged during shipping. If the buyer didn't open a case in the Resolution Center, ShipCover will send an email to the buyer with details on how to complete the verification process.
If the verification email was lost or never received, how else can the buyer verify the claim?
The buyer can verify the claim through My eBay in one of two ways. Here is the first way:
1) Click "Won/Purchased" on the left-hand side.
2) Find the item and click on the description.
3) Click "View order details."
4) Click "Verify shipping insurance claim" and fill out the form.

Here is the other way:
1) Click on the "Messages" tab at the top of the page.
2) Open the message with the subject "Shipping insurance claim received."
3) Click "Verify the claim" and fill out the form.

Are there any countries where ShipCover will not insure shipments?
The following countries are excluded from ShipCover insurance: Belarus, Cote D'Ivoire (Ivory Coast), Cuba, Iran, North Korea, Myanmar, Russian Federation, Sudan, Syrian Arab Republic, and Zimbabwe. (This list is subject to change.)
Who do I contact for claim related questions?
If you have questions or concerns related to claims, you can contact us.
What are the rates for Surplus Line Tax and Surplus Line Stamping fee?
The Surplus Line Tax is calculated at 3% and covers the California State Tax. The Surplus Line Stamping Fee is paid to the California Stamping Office and is calculated at 0.20%. The stamping fee is only paid on parcels valued greater than $100. There is no Surplus Line Stamping Fee when the cost of the parcel is valued at less than $100.